Baseball Athlete Evaluation
If modern baseball relies so heavily on data and analytics, why should your baseball lessons be any different? Here at Rick Strickland Baseball, we remove the guessing from baseball training and replace it with real, data-driven analysis to deliver the best results.
Doing so requires technology and experience, something we are proud to combine. Led by a staff of former MLB and college baseball players, we utilize cutting-edge technology that allows us to take an in-depth look at your skills and weaknesses. From there, we are able to create customized paths to success for each and every participant of our baseball athlete evaluation.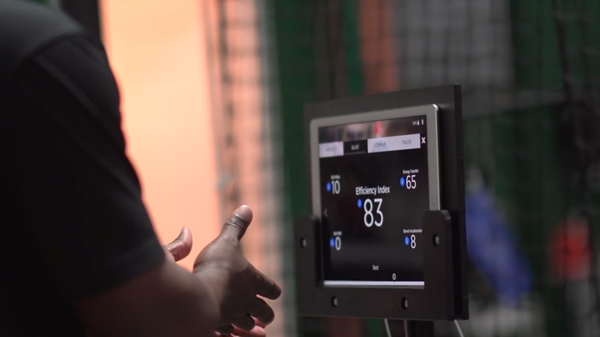 How Does it Work?
Our baseball lessons and training utilize three separate assessments that allow us to gather a set of data and create individualized workouts and training programs.
HitTrax Assessment
Think about all of the modern metrics used to evaluate MLB hitters and imagine how beneficial it would be to know your measurements in the same areas. That's exactly what HitTrax provides by giving you access to real-time metrics, video analysis, and trend reports. By understanding the following metrics, you can begin to dial in the minute changes that make a world of difference:
Exit velocity

Launch angle

Distance

Point of impact

Projected play outcome

Strike zone analysis
Bat-Path Analysis
Optimizing the path of your swing can maximize the metrics listed above for incredible results. In turn, you can begin making harder contact and reaching base more often. Our bat-path analysis monitors how your bat travels through the strike zone, allowing you to better understand how to adjust your swing and react to different pitches.
By seeing your swing path in 3D, it becomes easier for you to build upon the strengths in your swing, correct the deficiencies, and adopt a swing style that yields the best results.
3D Motion Analysis
In addition to analyzing your swing path in 3D, we take a look at the movements of your whole body to begin eliminating wasted movement and energy. This in-depth video analysis pinpoints muscle imbalances and flexibility limitations that could be holding you back from harnessing all of the potential power in your swing, pitching motion, running style, and more.
When you actually see these areas of limitation, it becomes easier to work with your body and develop training plans and workout programs to target specific areas you can improve on. This smart approach to baseball training not only offers the best results in your game, it also helps you avoid injury and stay on the field.
Be Part of the Best Baseball Training in St. Louis
Our athlete-evaluation technology has been used and trusted by the MLB and many college baseball teams, and now you can benefit from the same baseball training. Whether you're looking to gain the attention of college scouts or are just starting to play the game, we tailor our program to suit your individual skill level. With our approach, you can begin playing your best baseball.
If you want to learn more about our individual baseball lessons, or if you are ready to sign up for our baseball athlete evaluation, give us a call today. We can't wait to help you unleash your full potential on the field!